As of 5 October 2020, the .wed generic top level domain (gTLD) is no longer operated by Atgron, Inc. This website is maintained as a historical record only. Please find ICANN termination notice here: www.icann.org/en/registry-agreements/details/wed?section=agreement.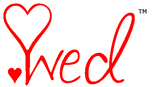 Personalize your wedding website with a .wed address.
Examples of .wed wedding websites
---
.wed Testimonial
Having the wedding website was a huge help with our wedding. . . Ryan and I were able to update guests in the months leading to our wedding whether it was for parking information, directions to the venue or even RSVP'ing to the event. Since we had a website, we were able to ask the guest questions when they RSVP'd such as what song they would like to hear, what they thought our first dance song should be and what their food preferences were.

The biggest bonus to having the website, I would say is in the aftermath of our ceremony. We have been able to post links through our wedding website to the video, photographers gallery and photo-booth gallery.

It made it especially easy for those who could not attend and wanted to still be a part of the wedding and those who wanted extra copies of pictures.
​
Many thanks to Adrienne and her team for providing a tool that made my special day a more memorable one.

- Ryan and Michelle from Toronto, Canada

Benefits of a .wed website address:

1) Fewer phone calls and more time to enjoy each other, family and friends.

2) Shorter internet address is easier to remember and it will fit on your Save the Date cards and invitations - www.meandmylove.wed.

3) Share your wedding details in private or public, you own all the content on your .wed site.

4) No more confusion, you are not a company, your .wed domain name is perfect for your wedding.

5) Had a venue change? Don't spend hundreds of dollars printing new invitations, communicate emergency wedding updates via your .wed address quickly and easily via email or text.


Follow these three easy steps to create your .wed website address:

Step 1) Buy your .wed domain name from
Nominate.wed
before some other lucky couple gets it. Nominate.wed is in the United Kingdom, allowing you to pay with US, Australian, and New Zealand dollars, British pounds, and Euros. US Residents
DO NOT
pay VAT.
Step 2) Build a beautiful wedding website using easy, pre-designed free templates from Weddingwindow, eWedding or Wix. See some other wedding website providers in our
FAQs
.
Step 3) Replace the long wedding website provider's URL with your .wed domain name using these
instructions
.
Now you are ready to get married and enjoy your wonderful new life together!
---
Click here to buy your .wed address
---
---
In the news:
---
".guru, .tips, .sexy: The Wild West Of Internet Domains"
- NPR Morning Edition
Apr 4, 2014


"Dot-coms make room for .company"
- Toronto Star
Feb 8, 2014


"African-American businesswoman introduces dotWed for couples"
- New Pittsburgh Courier
Dec 6, 2013

"Move aside, .com: .wed, other domains will make Internet more crowded"
-Washington Post,
Aug 5, 2013


"Wedsites are becoming the must-haves for today's engaged couples"
-Boston Globe,
Jan 25, 2013
---
Adrienne McAdory, President & CEO of Atgron, Inc. talks about her vision of .wed for couples around the world.
---
Interested in a .WED domain name for your business?
Click Here
.
---